Welcome to the travertine category for the Sir Grout of NE Florida Blog. Here you'll find blog posts related to travertine surfaces that we've restored. See the amazing transformations with the included before and after pictures. Feel free to share and leave your comments.
Published December 22, 2017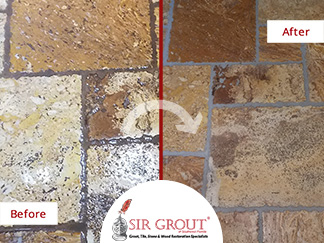 A Stone Cleaning and Grout Recoloring Job in Jacksonville, FL Achieved Incredible Results in This Kitchen
It's Christmas and people exchange a lot of gifts during this time of the year. No matter the type, gifts are always welcome and even more so in Christmas, when families normally spend time together. That was the case with this client in Jacksonville, FL.
READ MORE
Published November 23, 2017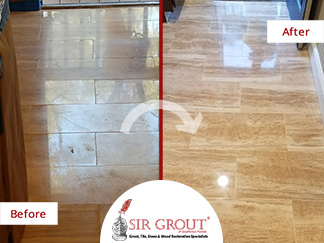 Outstanding Transformation: How a Stone Honing in Ponte Vedra Beach, FL Rescued This Travertine Floor
This homeowner and his wife bought their two-story building a few months ago in Ponte Vedra Beach, FL knowing that they had to make some improvements. The house needed some repairs, so they have done some remodeling work on the kitchen.
READ MORE