Welcome to the commercial category for the Sir Grout of NE Florida Blog. Here you'll find blog posts related to stone, tile, and wood surfaces that we've restored in commercial properties. See the amazing transformations with the included before and after pictures. Feel free to share and leave your comments.
Published November 16, 2020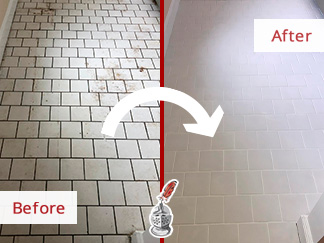 How to Keep Grout Clean
One of the biggest problems with grout is that much of it is cement-based, which means the product is porous. Cement-based grout needs to be sealed to keep it from absorbing moisture, dirt, and other external elements that can cause it to become discolored and very hard to clean.
READ MORE
Published June 13, 2019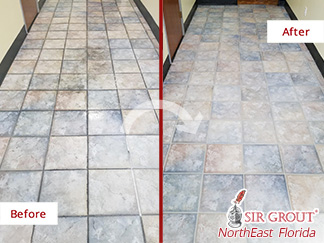 Outstanding Restoration: A Professional Grout Sealing Job in Jacksonville Completely Overhauled the Natural Stone Floor of This Insurance company
Grout is the most vulnerable component of tiled surfaces. It is susceptible to damages because it is commonly cement-based and porous. As a result, it readily absorbs dirt, grime, water, and cleaner residue. For this reason, it is important to properly seal the grout lines.
READ MORE