Our Grout Sealing Services Surpassed All Expectations When Restoring This Shower in Fleming Island
September 23, 2022
Grout is a crucial component on tiled surfaces but can quickly deteriorate. It needs to be kept wholly sealed at all times to avoid this issue. This homeowner was worried his shower's condition didn't have a solution. The surface had significantly deteriorated. Despite the owner's regular cleaning efforts, there was no improvement. He felt it would be preferable to find professionals in the matter.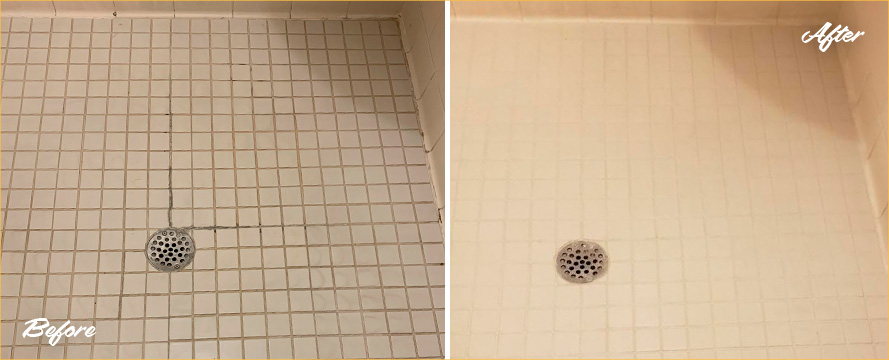 Thankfully the owner found out about our
grout sealing services in Fleming Island, Florida
, online. He entered our website through his search engine and then called us to request a free evaluation.
We went to his house as requested to evaluate the surface. The in-home consultation got underway after the owner welcomed us. As soon as we stepped inside the shower, we realized the floor wasn't in the best shape. The grout lines had degenerated over time, taking on a dingy, unattractive tone giving the shower an unclean aspect. A closer inspection revealed that the grout lines required sealing. We explained to the owner that because this common mixture is porous, it can easily absorb various external substances when it isn't sealed. It was necessary to use a particular sealer to stop additional harm and reduce deterioration.
We offered our grout sealing services since we had established that routine cleaning wouldn't be efficient and the restoration would need professional help. We would repair the damage, upgrade the shower's condition, and provide the surface with a durable shield using our top-notch equipment.
Three days later, we went to our client's home. We went through a meticulous multi-step procedure to guarantee the most excellent results. We started by cleaning the shower floor with our cleaner. Our product won't harm anything because it is produced with high-quality components and doesn't leave a residue.
Routine cleaning involves specific problems, such as stains or discoloration. Because of this, a lot of homeowners don't like doing so. On the other hand, Sir Grout of NE Florida has the equipment and knowledge to handle any problem on this delicate component. We laboriously repaired the damage and completely regrouted the grout lines over the floor. We next carried out the sealing step to complete the job.
We sealed the grout using ColorSeal, the company's top-of-the-line sealant. Our premium product provides unrivaled resistance and lasting effects. It protects against grease, dirt, and other agents, minimizing deterioration and streamlining cleaning procedures. The surface is substantially enhanced with ColorSeal, which gives the grout a consistent color and a brand-new appearance. It is available in various colors, allowing our customers to select the one that best compliments their surfaces.
All the problems had been resolved due to our efforts, and the shower floor had been completely restored. It was time to show the results to our client. The owner was taken aback by the surface's improved appearance. He was amazed since the shower floor looked terrific. He thanked us and promised to tell his buddies about Sir Grout of NE Florida.
Rapid degradation and damage can be brought on by heavy wear and tear. Showers need to be properly maintained as a result. The most effective strategy to attain the best maintenance practices is to adhere to our recommendations. Setting up a weekly cleaning schedule that exclusively uses pH-neutral, soap-free cleaners like
Sir Grout's Natural Hard Surface Cleaner
was our recommendation.
Our product is unquestionably the best choice in the market, with exceptional outcomes and various additional advantages. Also, it's non-toxic. Cleaners containing soap or compounds with acidic qualities should be avoided. These treatments leave behind a gooey foam that becomes trapped in the grout lines and causes deterioration, resulting in many problems like stains, discoloration, and other types of damage. Additionally, they include strong substances that damage hard surfaces.
You can't go wrong with Sir Grout of NE Florida's grout sealing services, as our happy customers can attest. Don't wait any longer to renovate your shower completely. Call us at
(904) 420-4141
or fill out the "Request a Quote" form on this page to schedule a free consultation today. If you want to keep up with our latest news and promotions, subscribe to our
newsletter
.