Disinfection and Microbial SHIELD Service
In light of the overwhelming need for deep cleaning and disinfection services, Sir Grout has partnered with one of the top sanitization and disinfection specialists in the country, Germinator Mobile Sanitizing.
We help homes and businesses protect themselves against the "invisible enemy" with our unique disinfection and microbial SHIELD service performed in two safe and simple steps as outlined below.
The tremendous benefit of this new service is not only disinfection but the application of an invisible, durable microscopic coating on treated surfaces that renders them virtually uninhabitable for microbes to survive on, as proven in a major university study.
Our Unique 2-Step Process:
Step 1: Disinfection of Common
Touch Points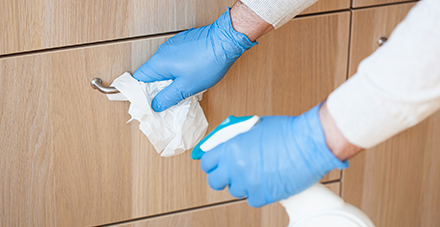 Step 2: Application of Germinator's
Microbial SHIELD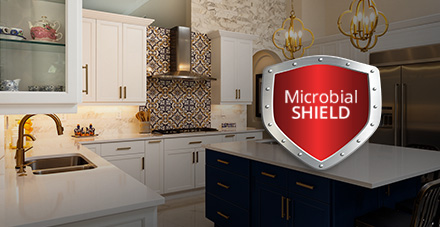 Service Details:
Our two-step service will first include a disinfection of common touch points (using products that meet the EPA's criteria for use against SARS-CoV-2, the novel coronavirus that causes the disease COVID-19). Treated touch points include: showers, tubs, toilet seats / handles, bathroom stalls, bathroom sinks, kitchen sinks, light switches, appliances, faucets, door knobs, hand rails, counters, furniture armrests, keyboards, table tops, TV remotes, key fobs and cell phones.
The second step is what separates us. After disinfection, we apply Germinator's long-lasting SHIELD solution to create a surface that inhibits the growth of bacteria, algae, fungi (mold & mildew) and yeast. SHIELD performs a process called "cell lysis," whereby the membrane of the microbe is physically rendered unstable, not chemically poisoned like many of the most common cleaning agents. This cell lysis activity is not depleted by cleaning agents and continues to work and protect after application.
We recommend you watch the above video to better understand how the SHIELD product works and the science behind it.
Promoting Health and Safety:
We are taking steps to minimize health risks and reminding our teams to stay healthy through "social distancing," no handshaking and multiple hand washing. We hope you are taking similar steps to protect yourself, family, business, and employees. For this reason,
we are also providing Virtual Estimates via Facetime and Google Duo Video
, as a way to minimize risks and respect social distancing.
Additionally, during service, our techs will take the following measures:
Social distancing
No handshaking
Multiple hand washing
Use of protective equipment
Please fill out the form on this page or call
(904) 420-4141
to inquire about this new unique service.